Tree Disease & Pest Treatment Services
Tree Disease Treatment The Oaks, Maryland
Healthy trees and shrubs are a key part of every The Oaks, Maryland landscape. At 855TREEMAN, we provide comprehensive tree disease treatment and prevention services to help keep your trees healthy in The Oaks, Maryland. Our certified arborists specialize in diagnosing and treating various diseases, including root rot, bacterial canker, dutch elm disease, verticillium wilt and many more. We use a variety of treatments to restore the health of your trees without compromising their safety or surrounding environment in The Oaks, Maryland.
Certified Tree Disease Specialist
Our tree specialists in The Oaks, Maryland can also identify conditions that could lead to tree disease so you can take preventive steps before it's too late. Contact us today to receive expert advice on how to protect your trees from potential damage and maintain their health for years to come.
We have partnered with Planet Friendly Pest Control, another Southern Maryland company, to help our Southern Maryland clients have access to the tree and shrub care resources they need. If you think some of your trees and shrubs may be sick you can
contact Planet Friendly Pest Control here
.
Improve Overall Tree Health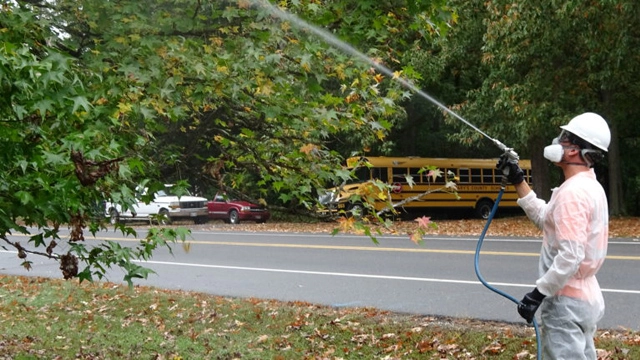 Landscaping Care For Trees & Shrubs
Here are some resource articles for common tree diseases and pests in Southern Maryland.
Frequently Asked Tree Disease Treatment Questions
Mike Bourque
Over last 2 years saved a couple large evergreens from serious bagworm infestation. Trees now very healthy.
Jack McCauley
Outstanding work! Professional service from start to finish. I can't recommend them enough!
Colleen Galli
Man, they were good and fast. They did an excellent job removing a dead, tall Oak tree from my property. While it could've taken up to 4 weeks, they literally came in less than 24 hours after my initial appointment. Everyone was professional yet friendly and when it came time to collect, they just had me contact the office. If you are looking to remove a tree, bush, etc..., you owe it to yourself to contact them FIRST.
K Mowatt
Very professional And respectful of your property. We would highly recommend them. The customer service was top-notch. We look forward to doing more business with you in the future.
Contact us for a
free quote.
Free Tree Disease Treatment Estimates